USE PROMO CODE 'WWP'
TO RECEIVE YOUR 100% DEPOSIT MATCH UP TO $100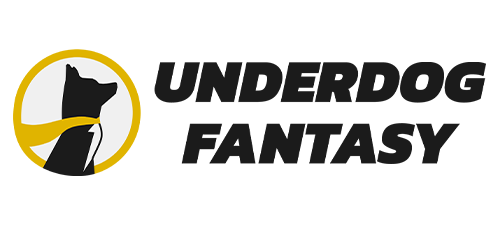 WHAT IS UNDERDOG FANTASY?
The best and easiest way to play fantasy sports is with Underdog Fantasy! Underdog has gained immense popularity in the MMA daily fantasy space through their Pick'Em and Rivals game modes. You simply pick between two and five selections on your entry slip and you could win up to 20x your money! With their slick mobile app and user friendly website you will have no trouble jumping in and making an entry – or you can become a premium member and use our Underdog Fantasy entries. As a bonus, when you use promo code 'WWP' Underdog will match your deposit up to $100! It wouldn't be wise to turn down FREE money…
WHY SHOULD I PLAY UNDERDOG FANTASY?
First and foremost, it is an incredible amount of fun! Also, did we mention how easy it is? Underdog Fantasy is a clear choice when it comes to daily fantasy MMA. You never have to worry about dealing with salary restrictions or being outmatched by more experienced players. It is just you against your selections. If all of that doesn't move the needle for you, don't forget that Underdog Fantasy also has a top of the line mobile app designed to make playing a breeze. It is lightning fast and very user friendly. You don't need to take that on faith though, just check out their app in the app store and look at all of the positive reviews! They are almost never ending.
BECOME A PREMIUM MEMBER TODAY!
Join Monthly
Most Flexible
With this option you will unlock all of the benefits of We Want Picks Premium Membership with the FLEXIBILITY of monthly access. Click the button below to unlock INSTANT ACCESS to all of the premium content we have to offer!
With this option you will unlock all of the benefits of We Want Picks Premium Membership with the EXTRA SAVINGS of annual access. Click the button below to unlock INSTANT ACCESS to all of the premium content we have to offer!
Early Access
Early access to all free content!
Premium Only Bets
Unlock exclusive members only bets!
Round Prop Picks
Round props for every single fight!
Angelo's Raw Notes
Hours of research at your fingertips!
Tools & Analysis
Find your edge through information!
DFS Core Plays
Unlock our favorite DFS plays!
DFS Cheat Sheets
Ownership, projections, and leverage!
Lineup Optimizer
Create optimized DraftKings lineups!
Pools & Rankings
Insight by salary and contest type!
Prop-Based DFS
Our exact prop-based entries!
ABOUT UNDERDOG FANTASY PICK'EMS
Pick'Em is the game type that you are likely already used to. Underdog Fantasy will set specific benchmarks for each fighter's performance and you will simply pick higher or lower when it comes to that particular benchmark. These benchmarks are chosen in multiple categories ranging from significant strikes, takedowns, fight time, and fantasy points. You can use as few as two selections for your entry, or as many as five. The more you choose the higher the potential payout, ranging from 3x all the way to 20x your money! You do have to get them all right so make sure to choose wisely.
ABOUT UNDERDOG FANTASY RIVALS
The unique Rivals game mode that is offered by Underdog Fantasy is the cash cow when it comes to MMA. This game mode is a pick'em, but with a twist. Instead of just saying higher or lower on a specific statistical benchmark, you are choosing between which competing fighters will do better in a particular statistical category during the fight. One thing to pay attention to with Rivals is that sometimes there are spreads that need to be covered. For example when it comes to takedowns, fighter A could be given +1.5 takedowns, so that means that fighter B will need at least 2 more takedowns than fighter A to win. This game mode is great for MMA because fighters are very style driven, so you can find a bit of an edge making your selections from this game mode. Click the button below and let's start making money together on Underdog Fantasy!
Use Promo Code
WWP
To Claim Your 100% Deposit Match
The links on this page are affiliate links. When you create an account and make a deposit after clicking one of the links located on this page, We Want Picks LLC receives a small commission. This information is for entertainment purposes only and does not constitute financial advice. Play at your own risk. If you or someone you know has a gambling problem you can receive help by calling 1-800-522-4700.