We are back with our best bets this week after a fairly disappointing betting performance on UFC Kattar vs Allen. The ending left a sour taste with Kattar's unfortunate injury, which meant we finished on 6-5 for our predictions on the night. Our PHTB parlay managed to cash, and 2-1 on the best bets is always nice. I do believe the judges got the decision wrong on the Jacoby vs Rountree bout, where we were very bullish on Jacoby winning in the eyes of the judges. There was a few eye raising calls, let's hope none of that affects us on this week's card, headlined by Marina Rodriguez and Amanda Lemos!
BEST BET #1 | Mario Bautista H2H @$1.40
I love the matchmaking here in this bout between Mario Bautista and Benito Lopez. Two game opponents that are fresh in their UFC tenures. Benito had a lot of hype after his contender series victory, but unfortunately he has been sidelined with several injuries which have kept him out for over 3 years. Bautista on the other hand has looked very impressive as of late, amassing a 2 fight win streak in 2022.
Bautista is very well-rounded, and trains with a lot of bantamweight beasts at the MMA lab. I believe he will carry his hot form into this bout and be the more active and polished fighter. I love the energy Benito brings, he has plenty of early finishes on the regional scene, but I do fear that ring rust may impact his performance, and is a big reason why I am betting against him in this spot.
BEST BET #2 | Jaliton Almeida by finish
Jailton Almeida is a certified problem for both the light heavyweight and the heavyweight divisions. He will be competing in the latter against Russian kickboxer Maxim Grishin. Grishin is a respectable opponent, I like his general footwork and the technique of his strikes. But I fear he will be taken down early by Jailton, and I do not believe he has the tools to get back up against such a high level grappler.
Almeida has looked scary in his UFC career to date. Once he gets on top of his opponents, he is too technical, powerful and skilled to be shrugged off. He lands brutal ground and pound on his opponents until the referee gets involved or a submission opportunity presents itself. I see Jailton getting the fight to the ground early, and stopping Grishin inside of 2 rounds.
BEST BET #3 | Marina Rodriguez H2H @$1.47
With a potential title shot on the line, Marina Rodriguez will look to make a statement in the main event. I have been extremely impressed by her striking speed and output, and it is no wonder why she is a top contender within the division. Her opponent is a fellow brazilian in Amanda Lemos, who is also a 35 year old contender. Lemos is the shorter fighter, but she is very physically imposing and uses that to her advantage in the grappling department and in landing powerful strikes.
Amanda poses submission threats, and will likely be the stronger woman. But Rodriguez's speed and movement will help her remain at distance where she will land a lot of volume. This volume will accumulate throughout the five rounds, and I see Rodrguez pouring it on and using her cardio as a weapon. I see her winning a decision or getting a stoppage in the later rounds.
Overs or Unders
Last card was also brutal from a round perspective, with our worst ever 3 – 6 tally. With that being said, our only 2 bets of the night in this market won (Griffin and Rountree overs) and I am feeling a lot better about the upcoming card though, so I am very optimistic we can bounce back!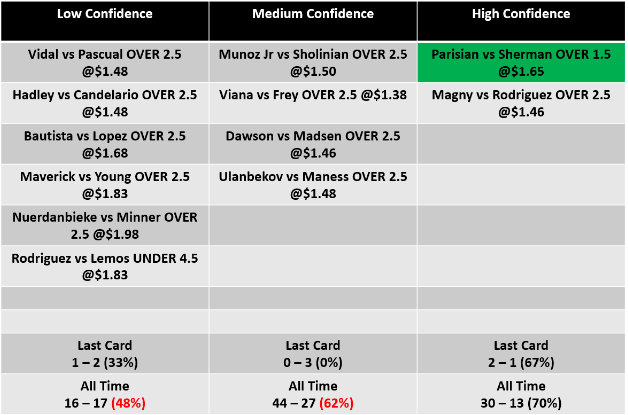 Thanks for tuning in once again, I hope you all enjoy the fights this weekend! If you are having a bet this weekend make sure you do your own research and gamble responsibly.