After a hectic fight week for UFC 279, the show rolls on with another fight night event this weekend! It is headlined by Corey Sandhagen and Song Yadong and has some great bouts throughout. These are my best plays for the card.
BEST BET #1 | Ilir Latifi H2H @$1.50
Ilir Latifi is a powerful martial artist who is also a high level grappler. His striking volume at times can be concerning, but it should not be an issue in this matchup against Alexey Oleynik. Oleynik is a true veteran of the sport, and as you can tell by looking at his impressive record of 77 fights, he is a submission specialist with 47 wins via that method. However, at this stage of his career being 45 years old, I fear he cannot compete with some of the higher quality heavyweights that the UFC has to offer.
The reason primarily being that he lacks the striking to hurt Latifi and potentially the wrestling to take Latifi down. Ilir has a perfect takedown defense rate of 100%, and that is extremely impressive given the level of his competition and the amount of fights he has had in the promotion. Latifi can use this to keep the fight vertical and land the more meaningful and powerful strikes, especially in the early going.
There's definitely concerns if this fight does hit the ground, and also regarding Latfifi's gas tank. These are both valid points, but I think that Latifi can save his explosions and make this a tactical fight, or he will get the early knockout. His neck is also extremely thick, and although Oleynik is super crafty and has various submissions in his arsenal, I am very curious as to whether he can choke out a man who has such a short and muscular neck. Should be an interesting matchup, I am definitely siding with the younger man in this spot.
BEST BET #2 | Mike Davis H2H @$1.51
Viacheslav Borshcev is an explosive kickboxer who has been plagued by his takedown defence throughout his short tenure in the promotion. In his three most recent bouts, he has been taken down 15 times! This is skewed by his last bout against Marc Diakese who was successful on 11 of 18 takedown attempts, but that is really concerning considering Diakese is a renowned striker that appeared to have added a new wrinkle of his game in the wrestling.
Mike Davis is known for his high level boxing skills, but he is really blending all his martial arts together very well at the moment, now averaging 1.39 takedowns per fight at a 33% clip. Although I think that Davis can hang with Borschcev on the feet and cause problems due to the threat of the takedown, I believe he will take the path of least resistance and put this fight onto the mat nice and early.
I do give credit to Borshcev for finding his way back up to the feet against Diakese and other opponents, he can certainly do that again in the matchup considering that Davis is not known for his grappling or top control. However, the threat of defending the takedowns and also the physical tax of working his way back up gives Davis a massive advantage in this bout.
Best Bet #3 | Randy Brown H2H @$1.33
Entering his prime at 32 years old, I hold Randy Brown in very high regard. He is extremely tall for this stacked welterweight division at 6'3 and has a diverse range of attacks particularly on the ground where he holds a brown belt. His opponent in the co-main event is Francisco Trinaldo, who is defying time right now at 44 years old. I respect his durability and toughness, but Father Time is undefeated and I believe he is in a very difficult matchup against a super well-rounded Randy Brown who is dangerous wherever this fight goes.
Overs or Unders
A lot of uncertainties this weekend from a round perspective in my opinion. This is the way I see the majority of the matchups playing out (main event odds are unavailable – fading this market anyways).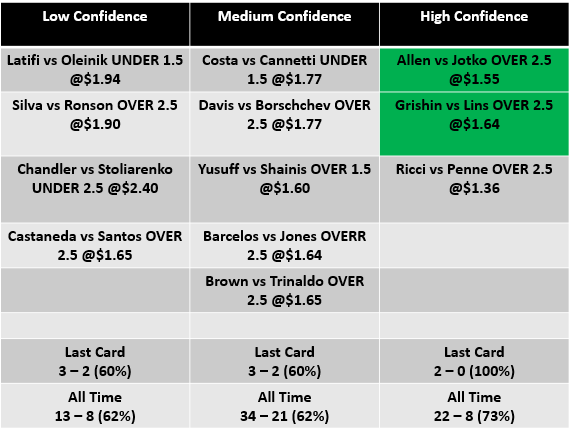 Thanks for tuning in once again, I hope you all enjoy the fights this weekend! If you are having a bet this weekend make sure you do your own research and gamble responsibly.