UFC 280 has been circled on every MMA fans calendar for a long time. It is stacked top to bottom with mouth-watering matchups and I cannot wait! We went 8-3 on the last card but only 2-1 on the best bets, this week we will be taking a different approach with a couple of value picks.
BEST BET #1 | Manan Fiorot H2H @$1.46
Manan Fiorot is one of the best female kickboxers in the world. She has been running through her UFC competition to date, and draws the #1 ranked contender in a prominent position on the main card. Katlyn Chookagian is a former title challenger who wants to make a statement to earn a rematch against Valentina Shevchenko. Katlyn is an output based striker who has been steadily showing improvements in her grappling against ranked opponents. I fear that Katlyn will struggle to close the distance to initiate her grappling sequences and this fight will be largely contested at kickboxing range, where Manan beats anyone in this division except for potentially Valentina. I expect that the victor will get a title shot, and I think that shot will go to the French fighter.
Value Bet #1 | Sean O'Malley H2H @$1.40
There will be several fans that will think I am delusional with this take, but Sean O'Malley has a lot of upside in this matchup against former champion Petr Yan. Yan has been widely considered as one of the best boxers in the entire organization; his diversity in attacks, movement, pressure and output in the later rounds has separated him from the division, yet I believe he may have a difficult fight on his hands against the fan-favorite O'Malley.
Many fault O'Malley due to his leg durability and the fact that he is relatively unproven, as he has only just entered the rankings despite his status and popularity. However, he has all the tools to get his hands raised against Yan. O'Malley's lateral movement, quickness and range is difficult to deal with, and although you could argue that Yan is the more proven grappler, I truly believe that this will largely be a kickboxing match.
O'Malley has been counted out by the oddsmakers, but I really believe he has a chance to upset Petr. If Sean can use his long-range attacks to outpoint Yan, particularly capitalizing on Yan's tendency to notoriously start slow, O'Malley could get ahead on the scorecards early and force Yan to play catch-up. Petr's a highly skilled bantamweight and deserves all the praise, he has the tools in his close range boxing and grappling edge to win this bout. But I truly believe that O'Malley can give him more problems than most, and he is primed for a big moment like this weekend.
Value Bet #2 | Charles Oliveira H2H @$2.55
The final tip of the night is to bet on another underdog in the uncrowned champion, Charles Oliveira. Charles has shown on his 11 fight win streak that he has evolved in every facet of the sport. He is not just a BJJ ace with the most submissions in UFC history, but he can also knockdown durable fighters in the top 5 of arguably the most stacked division. Charles is on a tear and is a fan-favorite, but he enters as the underdog against Dagestani prodigy Islam Makhachev.
Islam is the ultimate nullifier. But he will need to shut down the potent offense of Charles not only on the ground, but also on the feet. Makhachev is a worthy contender, but his resume I know that many of his opponents have pulled out, but I do feel like Khabib and the other authoritative voices at AKA have pushed Islam, so much so that he is a pronounced favorite against Charles, when I believe it should be a pickem'. The outcome can definitely go either way, but I see value in the below markets:
Islam to win a decision at $4.40
Charles by KO/SUB at $2.65
Overs or Unders
A bunch of best bets under the high confidence section this week! These are my round market picks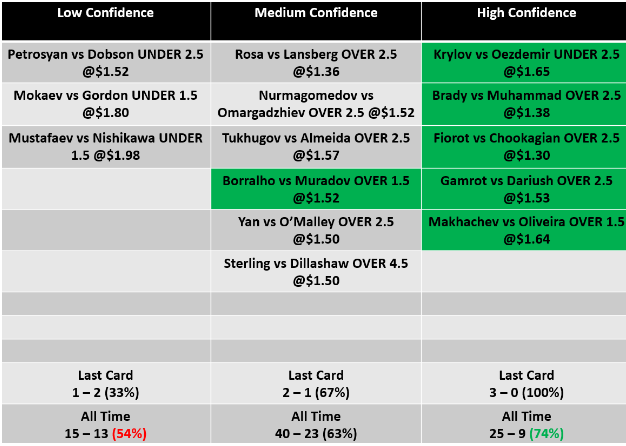 Thanks for tuning in once again, I hope you all enjoy the fights this weekend! If you are having a bet this weekend make sure you do your own research and gamble responsibly.