Every UFC fan is looking forward to UFC 280 and 281, but 279 is a card that is going under the radar! Some intriguing fights have been added to beef the card up, but it is these sorts of cards that tend to deliver. Emerging superstar Khamzat Chimaev is headlining against the legend Nate Diaz, who is infamously on the last fight of his contract. Many, including the oddsmakers believe he is being thrown to the wolves here, but it is still a matchup and an event that we are excited by as fans!
BEST BET #1 | Jake Collier H2H @$1.28
Chris Barnett has gained a fan base over his walkouts, spinning techniques and front flip celebrations, but can he avoid losing back to back fights in the premier promotion? He is facing off against a volume based heavyweight in Jake Collier, who is very durable and is renowned for marching his opponents down towards the cage. That type of fight will concern Barnett's camp, as when Barnett is retreating his offense becomes more limited, and he cannot fire his kicks which are some of his main weapons.
Jake Collier is very skilled at dictating the pace of his fights, and I believe he will force Barnett to fight a style of fight that is not suited to him at all. Collier will accumulate a lot of damage throughout this matchup, particularly against the fence, so I would not be surprised if we see a later stoppage or a decision victory for Jake in this heavyweight matchup.
BEST BET #2 | Norma Dumont H2H @$1.28
Norma Dumont presents a lot of problems for the relatively new mixed martial artist in Danyelle Wolf. Wolf is 38 years old and has transitioned from a successful boxing career where she amassed a record of 30-14. She is 1-0 in MMA and appears to be far too one dimensional to be fighting such a game and well-rounded opponent in Norma Dumont.
Dumont has victories over the highly regarded Aspen Ladd and Felicia Spencer, and I expect her to use her overall MMA experience and her grappling prowess in particular to land an early takedown to test the BJJ skills of Wolf. Once this fight hits the ground, Norma will land brutal ground and pound strikes until the referee stops the match or until a submission opportunity presents itself. I can certainly see this fight ending prior to the bell, and can only see Norma being the victor.
Best Bet #3 | Irene Aldana H2H @$1.48
Irene Aldana has some of the cleanest hands in female's MMA, and she has developed sensational takedown defense to pair with it. Aldana's 84% takedown defense enables her to keep her fights vertical, where she poses a significant advantage over the majority of her opponents, including her matchup here in Macy Chiasson.
Macy was very impressive in winning TUF 28, and has enjoyed a 6-2 record in the promotion. However, in my opinion she has had some very favorable matchups for her skillset to develop before she faces the higher ranked opponents, such as Irene Aldana. Macy has certainly improved in all facts of the sport, however I do not believe her takedown accuracy statistic of a mere 33% will help her get this fight to the ground. Macy is a skilled striker in her own right, however Aldana's hand-speed and power is too much of a threat, so I am very confident that Aldana gets her hands raised in this bout.
Overs or Unders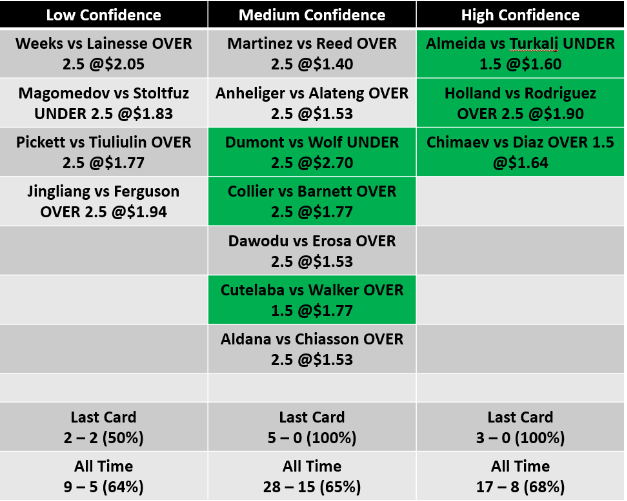 Last week was epic for us from a total round perspective, achieving 10-2 throughout the night! Both of our losses came in the low confidence section, so I am wrapped with our effort and hoping that we can do even better this week! The new green section pertains to the bets that I am personally placing, but as always use your own opinions and discretion.
Thanks for tuning in once again, I hope you all enjoy the fights this weekend! If you are having a bet this weekend make sure you do your own research and gamble responsibly.