Wow, I am thoroughly impressed by BetOpenly! Before I get into telling you exactly how impressed, and why I am impressed, allow me to give you just a brief overview of what exactly BetOpenly is. BetOpenly is not a sportsbook at all in the traditional sense, but it is better than any sportsbook I have ever seen.
BetOpenly was founded by Gino Donati over 5 years ago following the repeal of a federal law around sports betting in May of 2018. He was able to contact his co-founder, Steve (BetOpenly's CFO), and hit the ground running with the project. The concept is simple, Gino wanted to empower sports bettors across the world to create their own lines, their own odds, and provide a peer-to-peer wager platform that would allow bettors to win more and lose less with only 1% juice!
Now I know that sounds like fancy marketing talk, "Bettors win more and lose less with BetOpenly!" In reality, it's the most accurate thing I have witnessed when it comes to sports betting promotion. When you bet with a traditional sportsbook the book has something called "Vig" added into the betting odds. Vig is short for "Vigorish," also known as "juice" within the gambling community. If you have ever played in a casino this would be called the "house edge."
The Vig is baked right into the lines that you see available, and the Vig allows the book to realize a profit on either side of the bet by taking some of the total the moment you place the bet. The worst part is that in order to find out what Vig you are being charged on a particular bet you have to become a mathematician unless it is the standard -110 pick 'em on each side. Generally speaking, sportsbooks charge anywhere from 9% all the way up to 20% Vig to accept your bet. BetOpenly simply takes 1% of the total from the winner, making sure that winners win more, and losers lose less. As I said, most accurate statement in sports betting.
Now let's take a look at how BetOpenly works, and provide you with an accurate and honest review of the platform. I will do my best not to let my excitement for this platform sway me too heavily in my BetOpenly review.
FIRST IMPRESSION & SIGNING UP
Upon arriving at the BetOpenly website you will notice a pleasant dark color scheme with a very basic and clear user interface. Any reasonable person looking at this would know exactly what they should do next, but just in case you don't happen to be a reasonable person, you need to either sign in to your existing account or click register to make a new one. I have taken the liberty to circle that for you on the image that follows.
Once you complete registration you will be required to upload a selfie and a photo of your identification. This can be a bit tiresome, but the law requires it, so it is not much different than registering on any betting app or website. The approval process doesn't take too long, and then you are off to the races. 
For this part of the BetOpenly review, I will award them an 8 out of 10. They only lose points on visual aesthetics due to the simple cookie-cutter appearance, but everything does function very smoothly and the site is explicitly clear regarding the path I need to take as a visitor. Also, the registration process is smooth and simple, which increases their score as well.
DEPOSITS
The next important step is to fund your BetOpenly account. You can do this with any major credit card or by using cryptocurrency. I know that using crypto is all the rage, but for me, I prefer using VISA. You will just need to make the decision that is right for you. When deciding on your deposit amount, you should consider a few things.
Which method do I want to use to fund my BetOpenly account?

How much of my bankroll do I want to use on BetOpenly?
Once you have figured those two things out and have the opportunity to explore the platform, there is a third question you will likely be asking yourself, "How much more should I add to my BetOpenly account?" The reality is that once you see the platform you will want more money available on BetOpenly than you initially imagined.
All of your deposit is converted to BetOpenly credits and you are ready to place or accept your first bet. This is where the fun starts, but before I get into that, let's give BetOpenly a score on the depositing process. 
As far as the deposit portion of this BetOpenly review goes, they get a solid 9.5 out of 10. Very simple and very direct. I only removed half a point because I don't really understand crypto and I had to punish Gino and the BetOpenly team for making me even consider it in some way.
PLACING OR ACCEPTING A BET
Finally, we are at the most fun part of this BetOpenly review, the betting part. Once your account is verified and funded, it is time to start making some money. You can do that on a variety of sports across the platform, but for the purposes of this review, we will be specifically focusing on MMA betting.
The first thing you will need to do is decide if you are wanting to create your own bet or if you would prefer to just take action from someone else who already has a bet on the board. No matter which direction you go here, you are sure to win more and lose less than you would have by putting that money into your previous favorite sportsbook.
PLACING YOUR OWN BET
You will notice a big green button that says, "Create Bets." That is where you need to be to place your own bet on the board. You can choose from making that bet public or private. A public bet goes on the board for anyone to take and a private bet is only visible by providing the link to the person you wish to bet with.
Once you choose the audience for the bet you are making you will next need to choose the type of bet from the available options. They are quite encompassing and you shouldn't have a hard time finding the terms you are seeking for your wager. You can even offer the house a bet if you want, and in that case, you would be wagering directly with BetOpenly.
After completing the process of creating your bet, your bet will go live to the user base on BetOpenly, and then someone will come along to either take your entire bet, or possibly a piece of it, leaving some for others to come get later.
ACCEPTING ANOTHER USER'S BET
The next way to use BetOpenly is possibly the most advantageous way available for the value hunters out there. You can narrow the available bets by sport and bet type using the filters available on the sidebar, and then you will be able to find bets that other people are offering. BetOpenly has a policy that makes this extra valuable for you.
On BetOpenly users can only post bets that offer odds as good as other sportsbooks, or better than the odds available on other sportsbooks. This is obviously subject to lines that can be verified, but it makes the platform extremely enticing for experienced bettors in this way. Betting on MMA can be a game of inches, so when you find a line even 5-10 points better than you can get elsewhere, that value adds up.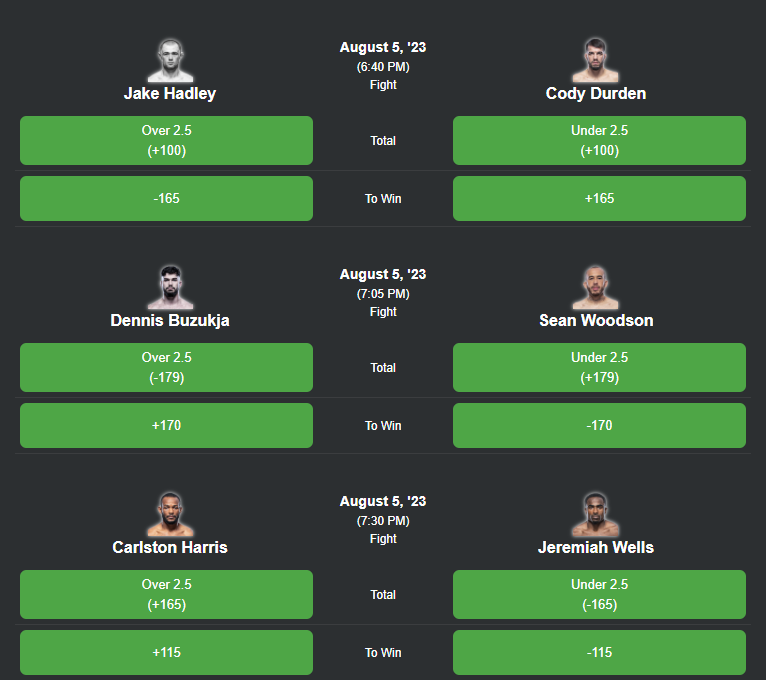 When it comes to placing or accepting bets on BetOpenly, I am going to give them an 11 out of 10. This is really where BetOpenly shines. 
First and foremost, having a platform that you can quite literally end an argument with by just inviting the person you are arguing with to take your actual money is game-changing. Secondly, if you are an experienced bettor that takes every bit of value seriously, between getting better betting odds and only paying 1% juice on winning bets, you are going to be way ahead of the game long-term on BetOpenly!
WITHDRAWALS
Next up, let's take a look at how smooth the process is to get all of that extra money you are winning. This is where many sportsbooks fall short unfortunately, they don't love to pay. Not the case with BetOpenly. The withdrawal process is super simple, very fast, and you can do so with any of the following methods;
ACH Deposit

PayPal

Bitcoin
The only limiting aspect of the withdrawal process with BetOpenly is that you can only withdraw for free four times per month. Any withdrawals after that cost $5. The money from your withdrawal with be sent within one business day from BetOpenly, however, it is important to keep in mind that when it comes to ACH Deposits, your bank may delay that process by a few days. 
When it comes to the process of swimming in your winnings from BetOpenly, I am giving them an 8.5 out of 10. The process is much smoother than most sportsbooks in the industry, but the limit is somewhat annoying. I guess I am being too critical about that one small inconvenience though considering how many benefits there are elsewhere to using BetOpenly.
WHERE CAN I PLAY?
Without getting too far into the legal realm here, because BetOpenly is not a traditional sportsbook and only a small portion of the platform is even considered Daily Fantasy, you can play almost anywhere with just a few exceptions.
When it comes to the United States and peer-to-peer betting, there are only five states that have not gotten cleared to use BetOpenly. Those forbidden states are Colorado, Hawaii, Idaho, Nevada, and New Jersey. You can check out the map below, if your state is blue then you are good to go, if your state is red then write your representatives.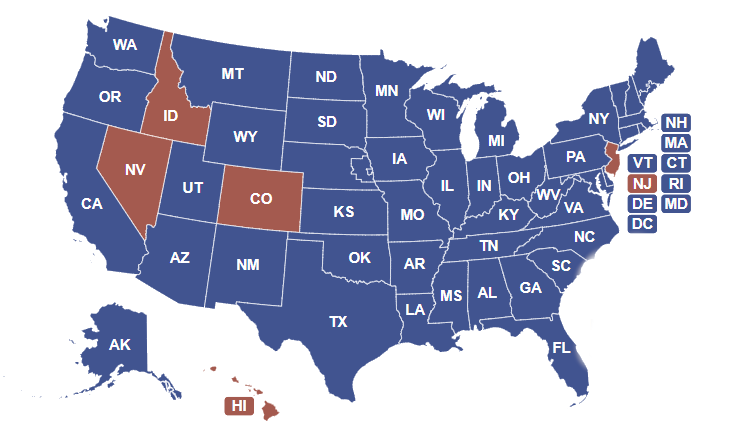 On the international scene things are a bit more straightforward. BetOpenly can be used anywhere except the continent of Africa or the countries in the Middle East. Anywhere else and you are all set to use the app. Of course, local laws may change so make sure to verify with your home country as needed. BetOpenly continues to work with regulating entities around the world to bring availability to you, check out this link for the latest!
As far as the accessibility portion of this BetOpenly review, BetOpenly gets a 10 out of 10. It really is pretty straightforward where you can and can't use this app, and if you threw a dart at a map, your chances of hitting someplace where you can are pretty great.
FINAL THOUGHT
For me, as someone that just doesn't generally bet on sports because I don't appreciate the predatory practices used by most traditional sportsbooks, BetOpenly is a breath of fresh air that will allow me to get in on the action in a way that I thought I would not be able to previously. The app works well, it provides value, and for someone that likes to be right as much as I do, it gives me a solid way to settle arguments if the need arises.
If you have not yet signed up on BetOpenly yet, please visit https://wewantpicks.com/betopenly and get started winning more and losing less with BetOpenly!