Mackenzie Dern and Angela Hill's bout has been rescheduled for this week's 5 round main event at the UFC Apex. Although the card is perhaps not as eye-catching as others, these cards tend to be the ones that deliver a lot of action! It looks somewhat difficult to predict, but I will do my best to deliver my betting insight and hopefully get some profit!
BEST BET #1 | Ducote vs Godinez OVER 2.5 
Two women with outstanding cardio collide in a matchup here that I can see going the distance. Ducote is really good at stalling her opposition and imposing pressure, whereas Loopy is extremely active when it comes to her output. Nonetheless, both women often go the distance, especially the favorite Godinez who has gone the distance 10 times in her 12 professional bouts (7 decision victories out of her 9 wins).
VALUE PICK BET #1 | Andre Fialho H2H @$2.54
Both Joaquin Buckley and Andre Fialho are dangerous men that are very capable of winning this bout by Knockout. Buckley has the more dynamic approach and is considered the favorite, but I view this matchup as anyone's fight. I expect it to be a firefight where they exchange shots, which is where Fialho is arguably at his best. 
I see Andre entering the pocket and landing combinations, and believe his betting line particularly by knockout is great value, considering it is a volatile matchup that can go either way.
VALUE PICK  #2 | Ilir Latifi H2H @$2.45
Ilir Latifi at heavyweight has a lot of power in his kickboxing, and has a 100% takedown defense statistic. Nascimento is super dangerous on the ground, but he will likely be in trouble if he cannot get the fight to the mat. 
Latifi has a tendency to takedown high level grapplers, but with a wealth of UFC experience and tape on Nascimento available, he should employ a sprawl and brawl style that is the most likely path to victory.
Overs or Unders
7-4 is another great result following our perfect week on our total rounds table. Hoping to keep the hot streak alive!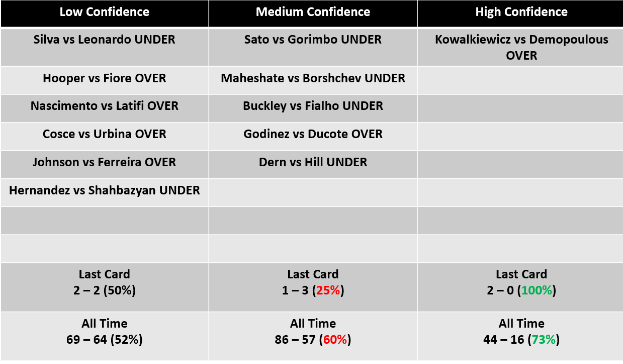 Thanks for tuning in once again, I hope you all enjoy the fights this weekend! If you are having a bet this weekend make sure you do your own research and gamble responsibly.