Looking to bounce back from a losing week on the previous card! This upcoming fight night is headlined by two heavyweight contenders, where we will see a clash of powerful striking of Sergei Pavlovich versus the wrestling skills of Curtis Blaydes. Bunch of great fights throughout the event which I am really looking forward to, and certainly some matchups where I see some value from a betting perspective!
BEST BET #1 | Brad Tavares H2H @$1.60
Bruno Silva has been impressive throughout his professional career, showcasing some high level kickboxing skills. He keeps his hands quite low, and I do see Brad Tavares causing issues for him by mixing in striking techniques on the feet to create opportunities to grapple. I can see Bruno struggling with the eventual pace that Brad can put on him, and I feel that this is Brad's fight to lose.
BEST BET #2 | Bobby Green H2H @$1.30
Jared Gordon arguably won his high profile matchup against Paddy Pimblett, and will look to carry that hype into this next matchup with fan favorite Bobby Green. Bobby is a very slick boxer, and I believe his movement and speed will cause a lot of issues for Jared Gordon. Jared may look to initiate some grappling sequences and also throw some power on the feet, but the accumulation of Green's jabs and straights will be overwhelming in my opinion, and I can see Bobby putting on a masterclass.
Value Pick  #1 | Sergei Pavlovich H2H @$2.42
Two massive heavyweights with title aspirations clash in a highly touted main event this weekend. Curtis Blaydes is one of the best wrestlers in the division's history, and he will need to utilize his takedown offense to nullify the sheer power from his opponent. 
Sergei Pavlovich is one of the scariest heavyweights in recent memory, with frightening physicality, movement and force. He truly is a wrecking ball that has the ability to knockout any man on the planet. Curtis has three professional losses, two to the former heavyweight champion Francis Ngannou and the other to another heavy hitter in Derrick Lewis. Both of these losses were stoppages, and I fear that the only thing that can stop Curtis Blaydes is the power punch.
If Curtis can survive the onslaught, he will likely have opportunities as time progresses throughout the fight. But I am confident in Sergei's ability to stalk Blaydes down and unleash his striking power. I have Sergei taking this one, and I see it happening very quickly.
Overs or Unders
These are my round total predictions for the card!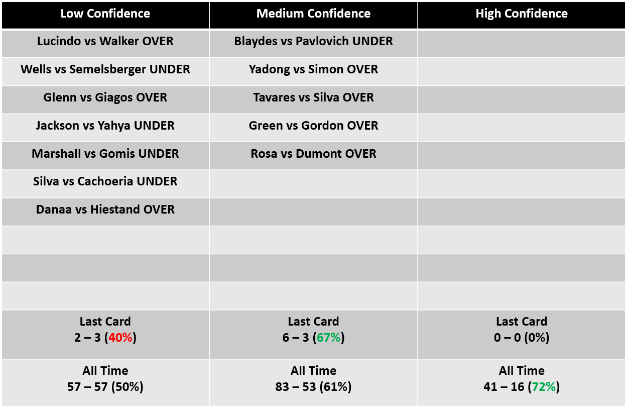 Thanks for tuning in once again, I hope you all enjoy the fights this weekend! If you are having a bet this weekend make sure you do your own research and gamble responsibly.