After an epic card in Australia, I am craving some more MMA action. This upcoming fight night has been shuffled around quite a bit, so much so that the main event has been re-booked twice! I was really looking forward to Vera vs Sandhagen and also Santos vs Blanchfield, but it looks like we will have to wait for those potential matchups.
After a scintillating streak of best bet winners to start the year, we finally cooled off with a 1-1 record last week (not including Jimmy Crute's draw). Our overall predictions for 2023 is sitting at 27-10 (73%), and I am optimistic we can continue our hot run of form.
BEST BET #1 | Khusein Askhabov H2H @1.75 
Khusein Askhabov looks absolutely incredible in the film available, but his record of 23-0
is padded by wins against competition you would expect him to easily win against, therefore, this is a huge step up in competition against Jamall Emmers, who has wins over legitimate fighters such as Cory Sanhagen, Alexander Hernandez and Vince Cachero.
Emmers is known for his boxing skills, and will really need his takedown defense (currently 100%) to remain perfect to win this bout. 
Askhabov offers a lot more threats than just the takedowns. He is renowned for his spinning attacks, and most importantly his vicious leg kicks. The strikes he throws exert a lot of energy, and on the big stage against a legit fighter, I do have concerns about his gas tank. But I feel that Askhabov's leg kicks will work wonders against the boxing heavy stance of Jamal, and therefore I will trust the unproven commodity.
BEST BET #2 | AJ Fletcher H2H @$1.40 
Themba Gorimbo is a welterweight grappler from Zimbabwe making his debut against the uber athletic AJ Fletcher. Fletcher has more experience against higher caliber competition and most importantly the wrestling advantage. This enables Fletcher to dictate where the fight goes, which will likely be on the feet where he can be more active and land more damage.
Although Gorimbo has dangerous submission skills, I would like to see AJ use his wrestling as a threat in the later minutes of the rounds. If he can mitigate risks by being conservative on top, it's a good way for him to land more strikes in the kickboxing exchanges because Gorimbo will have to defend the looming takedown threat.
BEST BET #3 | Alexander Hernandez H2H @$1.40 
Alexander Hernandez will be moving back up to lightweight on short notice to fight against the veteran Jim Miller, who is streaking at the moment with three straight finish victories.
I didn't agree with Hernandez's move to 145, and it proved to be unsuccessful against the durable Billy Quarantillo. At lightweight, I feel he's going to be able to use his wrestling to keep it standing against Miller, who despite being 39 years old is developing some power on the feet. I do like Hernandez's striking a little more, even though he has lost his last two. Keeping the fight vertical is a huge key, because Miller will likely be able to lock up a submission quick on the ground.
Value Pick #1 | Erin Blanchfield H2H @$2.55
Erin Blanchfield is one of the most highly touted prospects in the entire promotion. At just 23 years old, she has been incredibly dominant against formidable opponents such as Miranda Maverick and Molly McCann. Erin will be jumping up in competition to fight five rounds against the perennial contender Jessica Andrade.
Andrade is stepping up on one week's notice after a shutout decision victory over Lauren Murphy at UFC 283. Andrade is short statured and extremely powerful for the 125 lb weight class, and although she is a BJJ black belt, I feel like Erin will be able to get top position and maintain it for long periods of time. Erin is extremely strong as well, and super technical with her wrestling and BJJ. Her ground and pound and submission prowess is incredible, and I can see her using her size and skills to upset the former champion in the main event.
Overs or Unders
After hyping up this segment for our incredible performance, we had our worst week yet 🙁. This has potentially decreased my confidence on a few of the picks for this card's over or under picks.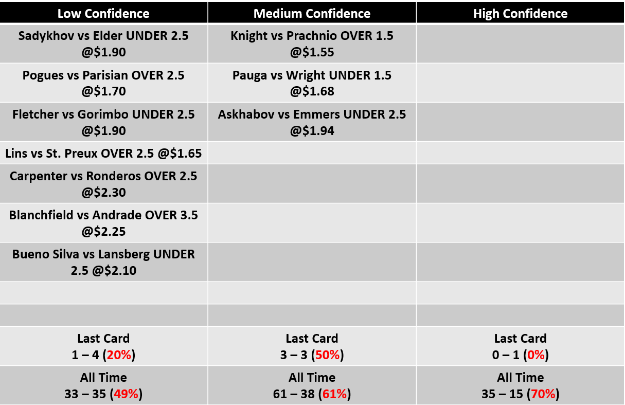 Thanks for tuning in once again, I hope you all enjoy the fights this weekend! If you are having a bet this weekend make sure you do your own research and gamble responsibly.