Hot start to the year for us, nailing all of our best bets, cashing in on the parlay and predicting 11/15 fights correctly on UFC 283! The week off was not warranted because I am very eager to use the momentum and continue our winning ways for the next UFC card, headlined former heavyweight title challenger Derrick Lewis and the surging Sergey Spivak.
PARLAY FILLER #1 | Tatsuro Taira H2H @$1.08
My betting strategy tends to vary depending on what is on offer. For example, UFC 283 showcased a bunch of hometown talent, most of which were exciting young debutants with aggressive styles that lead to several finishes and a couple of upsets. For my best bets I depended on savvy veterans with well-rounded styles that matched up well with their adversaries.
With two UFC victories under his belt, I would not consider Tatsuru a veteran by any means, but this man is a blue chip prospect within the flyweight division. He matches up well with even ranked competition, which is arguably the type of opponents he needs to face despite his ripe age of 22. Taira draws a 26 year old debutant fresh off the contender series in Jesus Aguilar, who appears to have impressive grappling skills, thus a high submission rate of 75%.
I am impressed by what I have seen from Jesus, and having 5 round experience in the UWC promotion is certainly a feather in his cap, but I firmly believe that Tatsuru is on another level.
Tatsuru is the slicker striker that is more adept at blending in the other facets of MMA, and he can utilize this to keep the fight standing and outland Aguilar on the feet. If this fight hits the ground, Aguilar certainly poses some threats, but Taira is a high level problem solver and has sound submission defense and positioning on the mat.
The betting strategy of picking short priced favorites is controversial to some, but I am very confident in the prediction and believe we have a total mismatch on our hands. I expect Tatsuro to be in most parlays, and I do not think he will disappoint.
BEST BET #1 | Tybura vs Ivanov OVER 2.5 @1.50
Marcin Tybura and Blagoy Ivanov are two of the toughest and most durable men in the heavyweight division. Blagoy in particular has showcased his chin by lasting the full 15 minutes in his past 7 fights (including all of his 6 UFC bouts) which is very impressive considering some of the opponents he faced such as Tai Tuivasa, Derrick Lewis and Junior Dos Santos.
Tybura has a similar skillset to Blagoy, but will likely be the more active of the two. 
Statistically, Blagoy has absorbed more significant strikes (4.21 per minute) compared to the amount of strikes he lands (3.44 per minute). I believe the speed of Tybura will enable him to throw more output and sway the judges to get his hands raised in a competitive matchup.
I am leaning towards Tybura by a decision, but will consider this fight over 2.5 rounds as a best bet for the week.
BEST BET #2 | Jun Yong Park @$1.52
Jun Yong Park is a veteran with slick boxing combinations and striking footwork, who will also have a grappling advantage over his opponent in Denis Tiuliulin. Tiuliulin possesses power in his striking which attributes to his 90% knockout rate, however, he is too one dimensional for my liking.
Park can definitely compete on the feet with his movement and speed, but must be aware of the power coming back at him. I would expect Park to mix in wrestling and grappling into his approach to give himself another avenue to victory, but also to keep Denis guessing. As long as Park respects Denis' power and is able to avoid an early onslaught and weather the storm, he should be able to get his hands raised comfortably.
BEST BET #3 | Sergey Spivak H2H @$1.44
Although I love the narrative of a transformed Derrick Lewis, I am adamant that Spivak will win this contest because his strengths are Derrick Lewis's weaknesses. I suppose the same could be said in reverse, however, the chances of Lewis landing a bomb on the feet is less likely than Spivak closing the distance and initiating a grappling sequence. Historically, Spivak has averaged over 4 takedowns in his UFC tenure, but I believe it will only take 1 for him to impose his submissions or ground and pound from top position. 
Prior to cancellation, Lewis weighed in at 264 lbs (11 lbs heavier than Spivak's 253 lbs). However, Derrick appears to have slimmed down tremendously from the limited content available at this point in time. In my opinion, this could mitigate some of the weaknesses in his cardio and durability, however, it may reduce the X Factor he possesses in punching power. In my mind, Sergey is a proven grappling commodity that is able to dominate once he lands a takedown, and for my money, he will be able to get this fight to the ground and win via stoppage in the earlier rounds.
Overs or Unders
We enjoyed a lot of success last week on our round totals with 10/14 being correct! This week I have a lot of low confidence picks which I am personally fading, but as mentioned above I am very bullish on Tybura vs Ivanov going over 2.5 and for Spivak vs Lewis to finish early, these are my two best bets for this segment.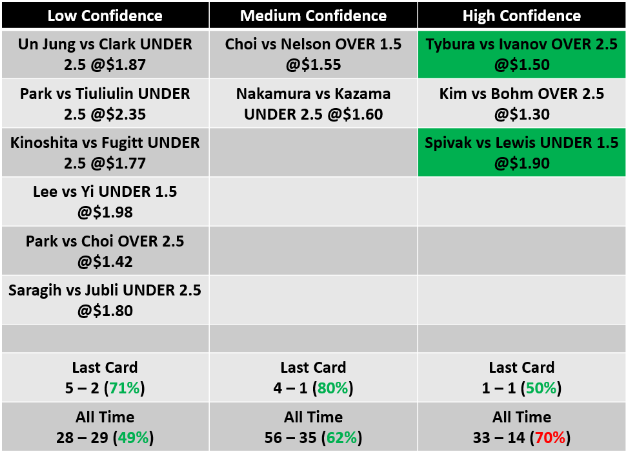 Thanks for tuning in once again, I hope you all enjoy the fights this weekend! If you are having a bet this weekend make sure you do your own research and gamble responsibly.