UFC 287 is quickly approaching and I am super excited from both a fan and a betting perspective. A few fights are really sticking out to me as value and there will be plenty of excitement throughout. These are my tips for the upcoming PPV!
BEST BET #1 | Luana Pinheiro H2H @$1.53
Luana Pinheiro has all the makings of a future contender in the strawweight division. All she needs is a signature win over a marquee name, perhaps over a veteran like Michelle Waterson. Waterson.
Pinheiro is a well-rounded fighter that has showcased dominance in her professional career to date. In her past 3 fights, she has landed 2 knockdowns against UFC caliber fighters, however, it is the wrestling and grappling threat that poses a risk to the Karate Hottie. Waterson is a skilled striker that will want to keep Pinheiro off of her at all costs, because Pinheiro punishes her opposition once she establishes control on the ground.
Throughout the 15 minutes, I can definitely see Pinheiro getting this fight to the mat, where she will be able to land ruthless ground and pound, whilst hunting for submission opportunities. Although Michelle has fought against high level competition, and has a striking advantage from range, I do not believe she will be able to keep this fight at kickboxing range.
BEST BET #2 | Jacqueline Amorim H2H @$1.34
Jacqueline Amorim is another BJJ ace that has been nothing short of dominant thus far in her career. She has a 10 second knockout in the LFA, a promotion where she captured the belt, and will be looking to progress quickly up the UFC rankings. I can see her dominating this fight with her finishing prowess particularly on the ground, where I see Sam Hughes struggling to defend the constant wrestling and submission attempts.
BEST BET  #3 | Michael Chiesa H2H @$1.61
Li Jiangliang has become a true fan favorite with impressive performances and his likable personality. He possesses dangerous and sneaky power on the feet, but I see Chiesa being able to close the distance and get this fight to the ground where he wants it to take place. 
The Leech's takedown defense of 60% is not bad by any means, but Chiesa will constantly initiate the grappling sequences until he can get the fight to the mat. I see Chiesa's grappling being very effective, and him having a lot of success with top control.
Overs or Unders
These are my round total predictions for the card!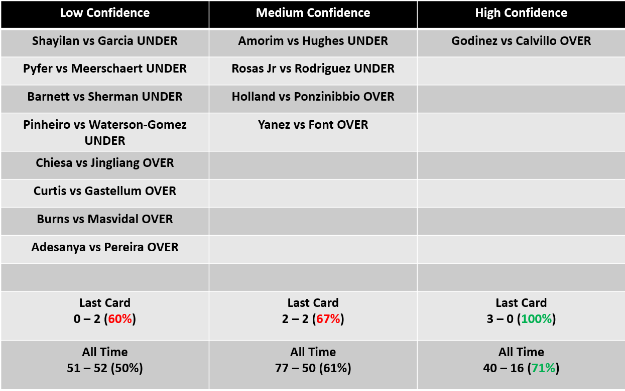 Thanks for tuning in once again, I hope you all enjoy the fights this weekend! If you are having a bet this weekend make sure you do your own research and gamble responsibly.