The UFC will be returning to my birth state of Western Australia this weekend. We have a huge card booked with homegrown talent, of course headlined by an epic clash between the pound for pound number 1 in Alexander Volkanovski, as he moves up to Lightweight in a quest to become double champ against Islam Makhachev. Hoping for a great night of fights, let's see if we can continue our hot streak of tips!
BEST BET #1 | Jimmy Crute H2H @1.44 | By Finish
Jimmy Crute is a fan favorite especially when on home soil. He enters this bout on a 2 fight losing skid, however they were against high level competition in the likes of the now champ Jamahal Hill and former title challenger Anthony Smith. Crute is an exciting fighter that always looks for the finish, very much like his opponent in this contest, the dangerous Alonzo Menifield. 
Menifield has power in his striking, which explains his 77% knockout rate and 92% finish rate. He won his last 2 fights against Misha Cirkunov and Askar Mozharov, both by first round stoppage. Alonzo will want to keep this fight standing against Crute, where he should have an edge in the power, however, Crute is more versatile and has a very slick submission game. 
Jimmy once landed 8 takedowns in 3:30 minutes throughout his dominant victory against Michal Oleksiejczuk. I expect Jimmy to implement more striking, but he will likely look to mix in the takedowns to keep Alonzo guessing or to take this fight to the ground, where Jimmy has the best chance of winning in my opinion. Crute also has fought tougher opposition throughout his UFC tenure, and I believe this is a step down in competition, in a prominent position on the main card on home soil. I will be taking Jimmy H2H, and would expect him to win by stoppage, likely a submission.
BEST BET #2 | Tyson Pedro H2H @$1.36 | By Finish
Tyson Pedro returned from his four year layoff in 2022 to put together two first round stoppages. He is a marketable athlete from the Oceania region, because of his prolific finishing abilities. Pedro is very tricky on the ground, and has a thunderous high kick which he throws often. He must be careful in setting up his shots against Modestas Bukauskas, who is a powerful striker.
Bukauskas has absorbed more significant strikes per minute (4.54) than he has landed (3.59) throughout his 1-3 stint in the UFC to date. His accuracy at 37% leaves a lot to be desired as well. Pedro on the other hand is a little less active, but has a positive strike lands (2.95) to absorbed (2.35) ratio. Pedro's accuracy of 64% is incredible, and I believe he will be able to pick his shots when Modestas rushes in.
The takedown and guard pull threat of Pedro will keep Modestas wary and guessing which shots are coming at him, which could lead to Pedro getting the fight to the ground through a grappling exchange or a knockdown. Both men are known for their finishing prowess, so I do not expect this fight to go much longer than the first round, and I am adamant that the victor will be Tyson Pedro.
BEST BET #3 | Islam Makhachev H2H @$1.24
Islam Makhachev is an extremely strong and technical lightweight champion, who dethroned Charles Oliveira with an emphatic performance. Volkanovski is a slick striker who is difficult to takedown, and even tougher to keep down. Volks' resumé at featherweight includes wins over Jose Aldo, Chad Mendes, The Korean Zombie and of course three over Max Holloway. This has cemented Volkanovski as an all time great (my personal Featherweight GOAT) and as the rightful pound for pound #1. But there are weight classes for a reason, and as he moves up I believe he will struggle with the size and strength of his adversary.
Islam is one of the best grapplers in all of MMA. He is super technical and has been nothing short of dominant throughout his career. He is very often compared to his lifelong friend Khabib Nurmagomedov for their grappling heavy styles, but it is known that Makhachev is the better striker of the two. Although Alex is an elite level striker, I do question how the power translates to the higher weight class, and if he can put away the 155 pounders.
Volkanovski owns 12 knockouts out of his 25 victories inside the cage, most of which are attributed to his ability to land consecutive shots on the feet and truly piecing up his opponents. Although I respect his skills, and believe he can make it difficult for Islam, I do not see Alex being able to capitalize on his striking advantage and put Makhachev away.
Alex invests into leg kicks, a successful strategy thus far throughout his featherweight career in the UFC. But this can be an opening that Islam can exploit to get this fight to the ground. I would expect Alex to be very aggressive, utilizing his speed advantage on the feet to land boxing combinations. For Alex to be victorious, I believe he needs to knock Islam out, because I see Islam controlling this fight on the ground and likely inflicting more damage. The more likely scenario in my opinion is Islam getting the fight to the mat, hunting a submission and accumulating ground and pound damage upon Volkanovski.
In terms of betting on a method, Islam could finish this fight by either KO or Submission, or simply outwork Volkanovski and win a decision. My personal pick is a submission in the second or third round, but at this stage I am only betting on Islam to be the head to head victor.
Overs or Unders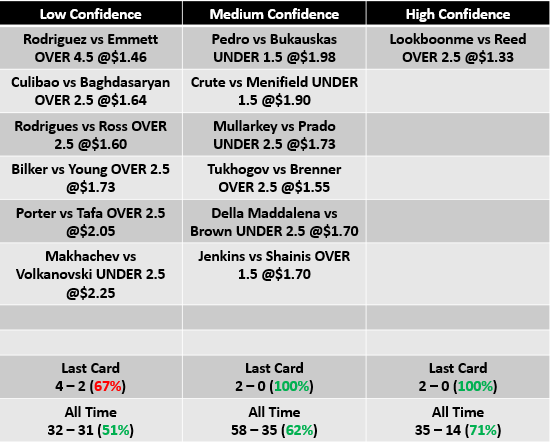 This segment is becoming seriously underrated. 8-2 correct tips from our last card, 18-6 for the year so far which is absolutely ridiculous considering the majority of these are pick 'em' odds. Here's my round over or unders table for the week.
Thanks for tuning in once again, I hope you all enjoy the fights this weekend! If you are having a bet this weekend make sure you do your own research and gamble responsibly.